Founded by Claire Gibault in 2011, the Paris Mozart Orchestra is a flexible ensemble varying in size and instrumentation according to the demands of each project. 
The PMO regularly performs at prestigious French concert halls and cultural centres such as the Théâtre des Champs-Elysées, Théâtre du Châtelet, La Seine Musicale and the Philharmonie in Paris, Théâtre des Célestins in Lyon, Opéra de Marseille, Théâtre Le Liberté in Toulon, Palais des Congrès and Théâtre des Quinconces in Le Mans, or Arsenal in Metz. Among its highlights of the 18/19 season, the PMO made its debut at the Stresa Festival in Italy with "Pictures of America" starring Natalie Dessay, gave a series of Mozart concerts during the Folle Journée de Nantes, and will perform at the French May Festival in Hong Kong with Eric Genovese of the Comédie-Française.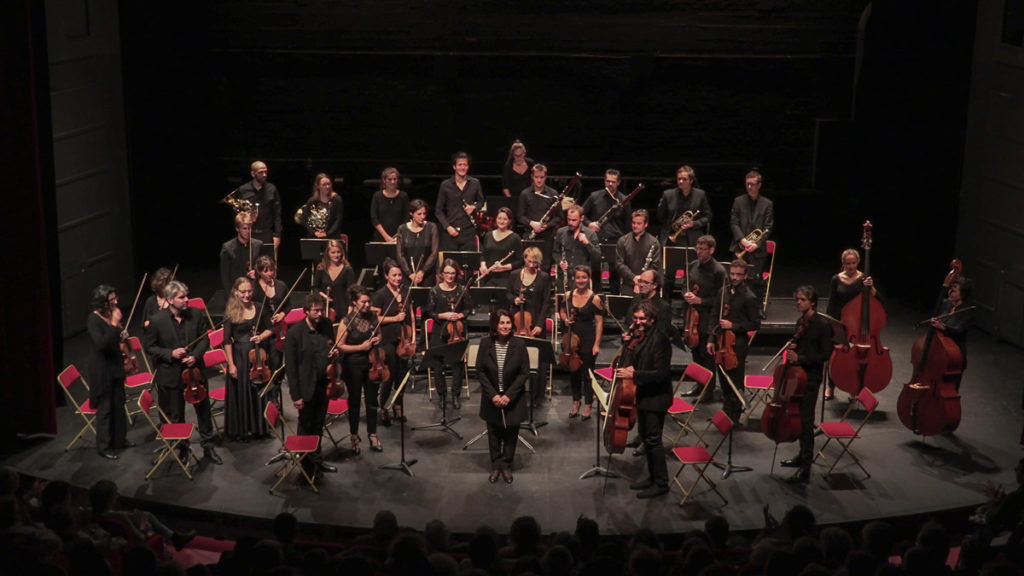 Showcasing the talents of the outstanding young soloists of the Paris Mozart Orchestra – among them, as concert master and string session principals, the four members of the internationally acclaimed prize-winning Psophos Quartet – lies at the heart of the PMO project. The ensemble collaborates frequently with a number of world-class soloists such as sopranos Natalie Dessay, Julie Fuchs and Myrto Papatanasiu, mezzo Karine Deshayes and pianists Anne Queffélec and Jean-Claude Pennetier. It is also committed to showcasing outstanding young and upcoming soloists such as pianists Adam Laloum and Marie-Ange Nguci, trumpet player Lucienne Renaudin-Vary or harp player Anaïs Gaudemard.
A powerful advocate of contemporary music, artistic director Claire Gibault commissions each season a new multimedia "melologue" from a distinguished composer – to date Fabio Vacchi, Sylvia Colasanti, Graciane Finzi, Edith Canat de Chizy, and Philippe Hersant – creating an original and highly evocative repertory designed as much to enthrall today's music lovers and concert goers as to inspire and challenge the young participants in the PMO's award-winning educational arts and culture project Un Orchestre dans mon Bahut, a laureate of La France S'Engage.
The PMO's first recording featured the melologue Soudain dans la Forêt Profonde, a setting by Fabio Vacchi of words by Amos Oz; their 2nd CD "Pictures of America" inspired by the paintings of the American realist Edward Hopper with Natalie Dessay was released by Sony in December 2016. In 2018, the PMO collaborated with graphic novelist Sandrine Revel, winner of the prestigious Prix Artemisia for her acclaimed album Pygmalion, published in France in May 2018.
Dedicated to winning new audiences and sharing with all a passion for music and the arts, the PMO breaks down barriers through accessible, innovative and adventurous programming coupled with imaginative and often participative multimedia presentation.
This is the case with programmes such as "Pictures of America", "Pygmalion", "Orfeo" or "L'Invitation au Voyage", which all feature strikingly evocative visual elements.
The PMO also fulfils a unique social and educational role alongside its acclaimed performances of classical, early romantic and contemporary music. To be a member of the orchestra is not only to participate in an exciting musical adventure; it is also a way to share in and champion the strongest of humanitarian values, reaching out to the very young, the underprivileged and the alienated. Every year, approximately 50% of the PMO's activities are devoted to educational, social or humanitarian projects.
Through Un Orchestre dans mon Bahut, a project devised and developed in close consultation with the Education Authorities of the Paris region, the PMO works each year with 16 Collèges and Lycées in and around the Ile-de-France region to create an ambitious multi-disciplinary arts and culture programme offering students a unique interactive experience to touch, inspire and enrich their lives.
The PMO is also a regular visitor to prisons, hospitals and old people's homes and develops partnerships with many institutions and organizations committed to educational, social and humanitarian ideas. In March 2018, it started a series of regular musical encounters with young isolated refugees in Paris.
The PMO is proud to count on the continuing support of its principal sponsor the Fondation Daniel et Nina Carasso, and the invaluable assistance of the Fondations Aéroports de Paris, Ardian, Crédit Agricole Ile-de-France and SFR, and of Vivendi Create Joy, La France S'Engage, Musique Nouvelle en Liberté, SACEM, the French Ministry of Culture and the Greater Paris Region.