Founded in 2011 by conductor Claire Gibault, the Paris Mozart Orchestra (PMO) is a unique artistic enterprise – committed, daring and unanimous in its sense of purpose. Through challenging and innovative programming, commissioning and outreach, the PMO champions both classical and contemporary music while advancing the appeal and accessibility of all the arts in a generous spirit of open-hearted partnership.
Boldly exploring every new horizon, profoundly engaged and alive to every audience, the PMO is an orchestra like no other.
Alongside their performances at such prestigious international concert halls as the Philharmonie de Paris, Auditorium National de Lyon, Concertgebouw Amsterdam and Muziekgebouw Eindhoven, the PMO and Claire Gibault are equally at home in prisons, hospitals and schools.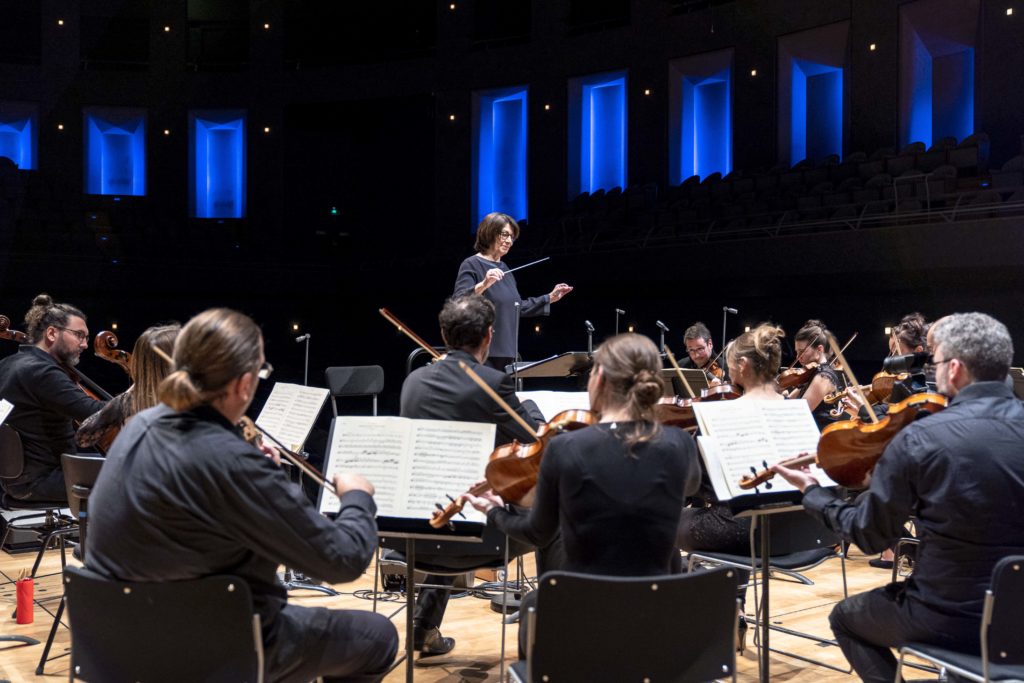 © Maria Mosconi / Hans Lucas
To be a member of the orchestra is not only to participate in an exciting musical adventure; it is a way to share in and champion the strongest of humanitarian values, reaching out to the very young, the underprivileged and the alienated. Every year some 50% of the PMO's activities are devoted to educational or social projects. Meaningful artistic choices are inseparable from a strong social commitment.
Showcasing the talents of the outstanding musicians of the PMO – each of them a soloist or chamber music player – lies at the very heart of the project. And the PMO strives to maintain an equal number of women in principal positions, visibly promoting, encouraging and exemplifying greater inclusion and diversity.
The orchestra collaborates both with world-class artists – most recently soprano Véronique Gens and pianist Maria João Pires – and with such outstanding young soloists as pianists Isata Kanneh-Mason, Adam Laloum and Nathalia Milstein, and mezzo soprano Victoire Bunel.
In recent seasons the orchestra has performed at the Philharmonie de Paris, Stresa Festival (Italy), French May Arts Festival (Hong Kong), Folle Journée de Nantes and Festival de Pâques in Aix-en-Provence.
In its 10th-anniversary season 2021/22 the orchestra was invited by the Festival Internacional Cervantino for a 10-day Mexican tour, and in Europe gave performances at the Teatro Palladium Rome, Concertgebouw Amsterdam, Muziekgebouw Eindhoven, de Doelen Rotterdam, Polish Radio Auditorium and Auditorium National de Lyon, while appearing throughout the season at the Cité de la Musique – Philharmonie de Paris.
In 2023/24 the PMO continues its new artistic residency in Bourges and throughout the Centre-Val de Loire region with a second season of concerts and open rehearsals at the Maison de la Culture de Bourges, masterclasses at the Conservatoire, the PMO's "Orchestre Au Bahut" educational program deployed in a dozen schools and high schools, projects at the city's psychiatric hospital and nursing homes and a new partnership with the local prison.
Other highlights this season include the 3rd edition of the La Maestra Competition at the Philharmonie de Paris, a major education project around the Cultural Olympiad in the Île-de-France and Centre-Val de Loire regions, and concerts at the Festival Berlioz, at Les Invalides and at the Cité de la Musique – Philharmonie de Paris.
A powerful advocate of contemporary music, PMO artistic director Claire Gibault commissions each season a new multimedia melologue from a distinguished composer (so far Fabio Vacchi, Silvia Colasanti, Graciane Finzi, Édith Canat de Chizy, Philippe Hersant, Alexandra Grimal, Benoît Menut…) creating and expanding a unique, original and highly evocative repertory designed as much to enthral today's music lovers and concert goers as to inspire and challenge the young participants in the orchestra's award-winning educational arts and culture project "Orchestre Au Bahut", a laureate of "La France S'Engage". In 2023/24 the young composer Manon Lepauvre will be composer in residence at the PMO.